prints, drawings, paintings, web development, blog posts, link to etsy shop
It Shouldn't Be This Fun: 41st Annual Swim Around Key West Race Report
It Shouldn't Be This Fun: 41st Annual Swim Around Key West Race Report

It was back in early 2016 that I first learned of the existence of the 12.5-mile annual Swim Around Key West (SAKW). I had thrown in the towel on triathlon and embraced the fact that when it came to endurance sports, open water swimming was likely my first best destiny.
The SAKW (as well as my previous swim, the Great Chesapeake Bay Swim) showed up in a list of America's Top 50 Open Water Swims. I added them both to my bucket list. Seriously, the Island of Key West was already on the bucket list, and it was a place I wouldn't have to twist my husband Jim's arm to go - he's the one who made me a Jimmy Buffett fan, and I've always dreamed we'd someday be "strolling down the avenue that's known as A-1A."
But getting an entry in the SAKW was a little tricky. Solo swimmers needed a support kayak, and the window of opportunity was usually less than a week because the field gets capped at 110 swimmers. For an extra fee, 35 swimmers can "purchase" a kayaker, i.e., a race coordinator will pair them with a support kayaker. I couldn't possibly ask someone to foot the bill to come to Key West with me, so I needed to be one of those 35 swimmers. I knew as soon as race registration opened in March, I would have to sign up. I set my calendar to remind me, and when the reminder popped up, I evaluated my training situation.
Did I have enough time to train? I hoped so. It was still four months away, and I had already committed myself to the Chesapeake Bay 4.4-miler and the Ocean Games 9-miler in mid-July, so, heck, what was a few more miles really? I registered and then frantically started combing through all the swimming and open water online forums and blogs for Key West course details and training plans, nutrition plans, strategic plans, and mental plans for completing a 12.5-mile ocean swim in ridiculously warm conditions. I read as many race reports as I could find. I even joined US Masters Swimming hoping for advice.
There was a lot of info out there, and strategies were as varied as they could get. The minimum rule-of-thumb from my favorite open-water expert, Lone Swimmer, was that the distance a person "could" swim in one shot was four times the distance of their longest training swim, and one should swim at least that total distance on a weekly basis. In math terms, 12.5 miles was 22,000 yards which meant the following: I had to swim 22,000 yards weekly, and my longest swim had to be at least 7,040 yards.
Those were the minimum requirements. Have you ever known me to do anything at a minimum? (Except for cleaning my house, that is.)
I didn't think so. By the time we left for Key West, I had been able to complete the following (and I still worried it would not be enough):
swimming 5-7 days per week at a weekly yardage of between 26,000 and 45,000 yards
two 8,000+ yard workouts
two 10,000+ yard workouts
one 12,000-yard continuous swim in the pool
and one 14,000-yard continuous swim in the pool
The last two workouts in that list were also necessary for practicing race nutrition. I wanted to use SkratchLabs hydration mixes and Carbo-Pro (a high-carb drink of glucose polymers). Luckily, my pool water temperature was between 82 and 84 degrees F - perfect for practicing nutrition requirements in conditions (read: heat) similar to those I would experience in Key West. In my 14,000-yard session, 10 days before race day, I spent almost four hours in the pool and learned that my triceps would be prone to cramping without proper electrolyte consumption. (It happened in the final half-hour but was quickly remedied with SkratchLabs Rescue Hydration.)
About two weeks before the SAKW, I was given contact details of my assigned kayaker, Nancy. She was also a first-timer, in both the SAKW and serving as race support for a swimmer. But talking to her gave me confidence in her abilities: she was highly experienced and even possessed a certification in kayak rescue.
In the two weeks we had to plan, Nancy and I discussed her responsibilities: navigating the course, keeping me out of trouble (if you know me, you know this is not an easy task), and nutrition for both of us. Jim and I found a soft-sided cooler for my nutrition that could be mounted behind her seat on her 16-foot kayak. She could clip bottles to a 10-foot rope tied to her kayak and toss them to me. Race rules forbid swimmers from hanging onto kayaks (or boats, or anything) or standing up during the swim. I spent weeks researching the best way to carry all the fluids and fuel I would need in the heat. I decided on several 32-oz plastic milk bottles fitted with flip-top lids I found on Amazon (much easier to open than their screwtops). They were translucent so I could mark the volumes I had to drink, and the handles were sturdy for clipping onto the rope. I also had bike bottles fitted with zip-tie loops. Some of it would be frozen for later in the race. My nutrition plan was water for the first hour and then 32-oz per hour of a high-carb drink made with Carbo-Pro and Skratch. My feeding intervals would be 20 minutes. Nancy would use a countdown timer on her phone to keep me on track.
Nancy and I met the day before the race at Smathers Beach, the event start/finish location, to work out the engineering details. Jim was very instrumental in fabricating all our mounting, bungeeing, and zip-tying. Here are some photos: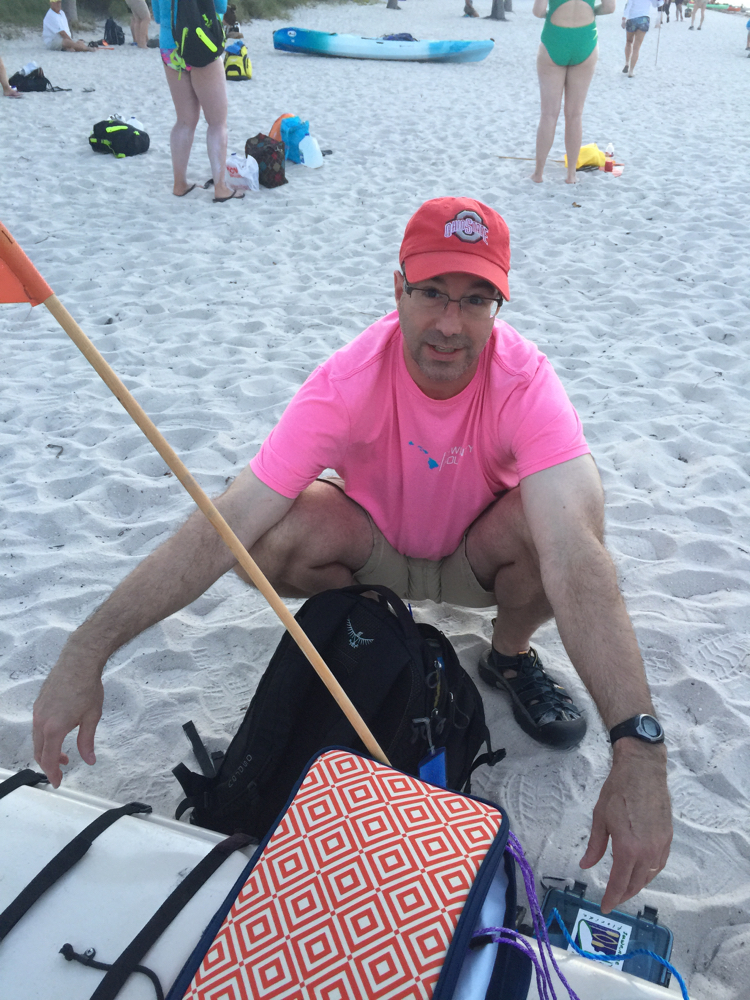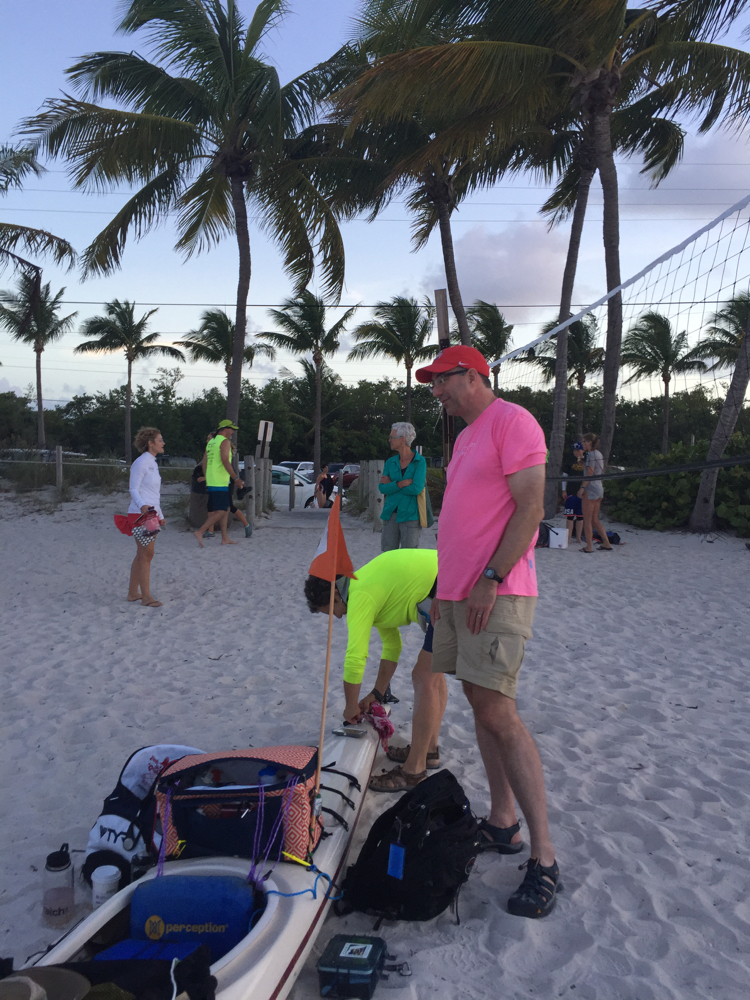 Then Nancy and I went for a practice swim to make sure everything worked and that she was comfortable with me swimming on her left. We grabbed lunch out and returned to the beach for race check-in and the mandatory pre-race meeting. The course layout was explained in great detail by the race organizer, Bill Welzein who would also be completing his 90th circumnavigation of the island with us. He described the tides, the water depths, currents and winds, and how it all would affect our races depending on what time we reached certain points on the course. I took notes on the course map (which Nancy actually taped to her kayak on race day):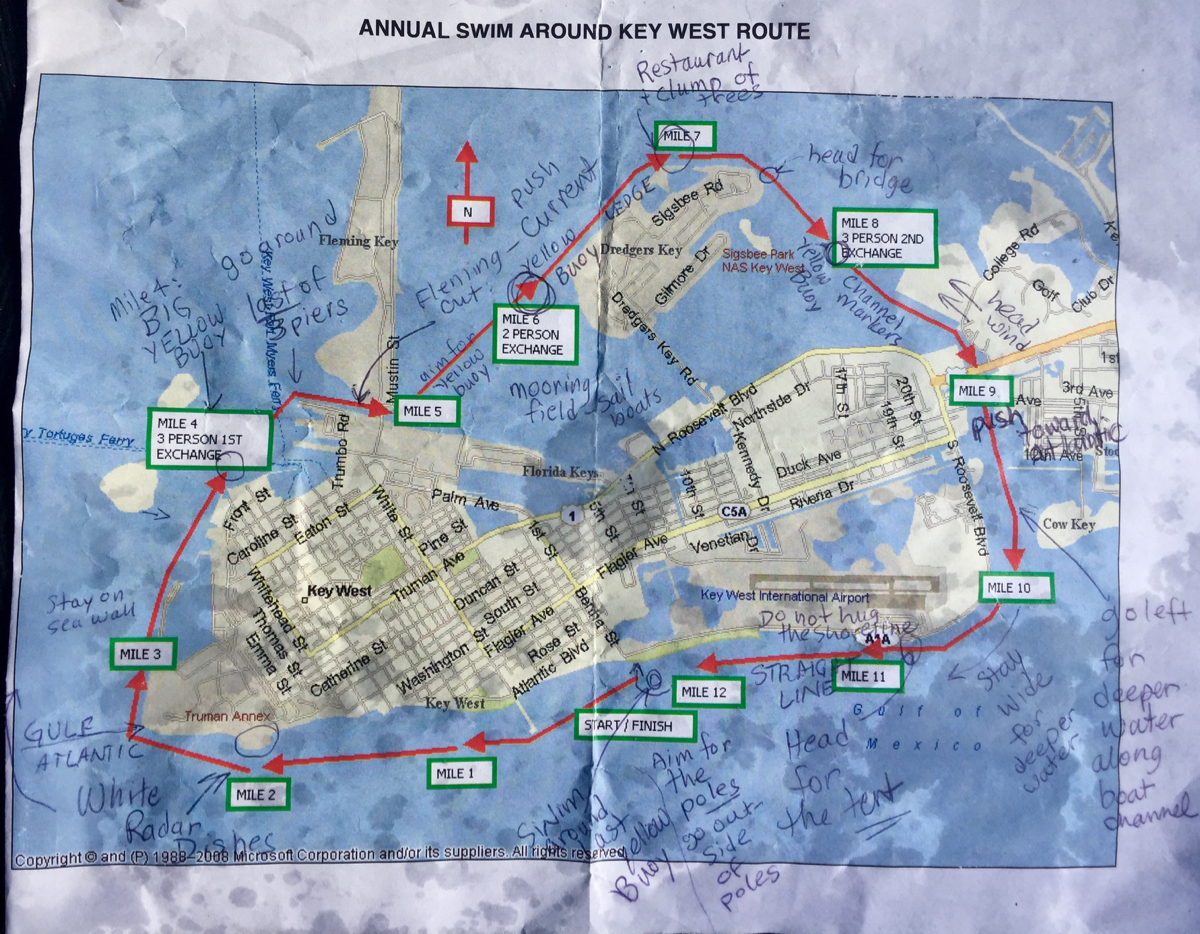 Basically, we would start with the current, get a slight push around the west side of the island while the tide was coming in, then had to navigate under a bridge at mile 5, into the main harbor and through the moorings, around a little island to the north, and into a channel where we would be going against the wind (miles 7-9). At mile 9, we went under Cow Key Channel bridge (hopefully we would see Jim there), and then, swimmers planning a 6-hour swim would get a second push where the Gulf meets back with the Atlantic Ocean as the tide was going out. Around mile 10, the water would get very shallow as time wore on (basically, if we got to that point early we would have a much easier time swimming through it). By the time we rounded the southeast corner, we would have less than two miles go and should see the finish line. Various sighting points were also described - like yellow buoys for the relay exchanges and features in the landscape.
Weeks before the race, my estimated finish time - based on how I felt in my long pool swims and how others had described their experiences in Key West - was about six hours. If I had a good day, I might be able to manage 5:40. If I fell apart, it would probably be more like 6:30. After factoring in feedings, current, wind, waves, etc., I was relatively certain that my time would he outside of any awards. Yes. I checked. There were only seven: top three, top two masters (40+), top grand master (50+), and top senior grand master (60+). And I looked at the times in years past. Last year's winner of the grand master category (mine) finished in 5:31. I accidentally saw that the awards were individually made and highly-coveted (they were conch shells). I had to block it out of my mind. I had to have one - and only one - goal in Key West. To finish. To prove to myself I could finish.
But I can't say I wasn't nervous. Being walked through the aerial view of the course terrified me - especially when the mile "markers" were pointed out. It was going to be a long day, and I had only a few hours left to come to grips with that and figure out how to get some sleep. Sleeping the night before was crucial to my morning mind-set. And to my (and Jim's) surprise, unlike two weeks prior in Annapolis, I managed to drift off to that elusive sleep zone using a self-relaxation tape. Well.. ok, so it took THREE tries, but it finally worked, and when the alarm went off at 4:45 am, I had about four hours solid rest and my nerves were not frayed like all those times in the past. 
I ate breakfast, put on sunscreen, packed everything up, and Jim drove me down to Smathers beach at 5:30 to get prepped for the start. The race officials handed me number 8 (Jim yelled "the OCHO!") - and Nancy and I joked at our luck because we didn't have to worry about how to tape it on the kayak since it looks the same upside down. Before I got in the water, I put on another layer of sunscreen (note: this still would not be enough to avoid a burned back and shoulders).
Here are some photos Jim took at the beach that morning showing Nancy and me, her kayak and the start: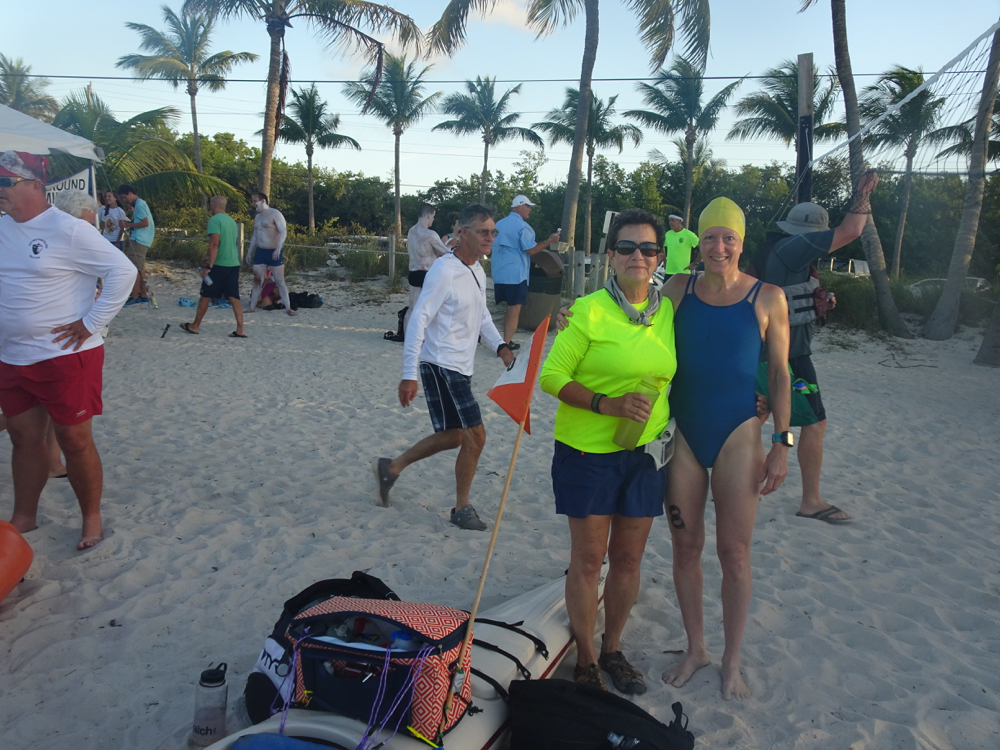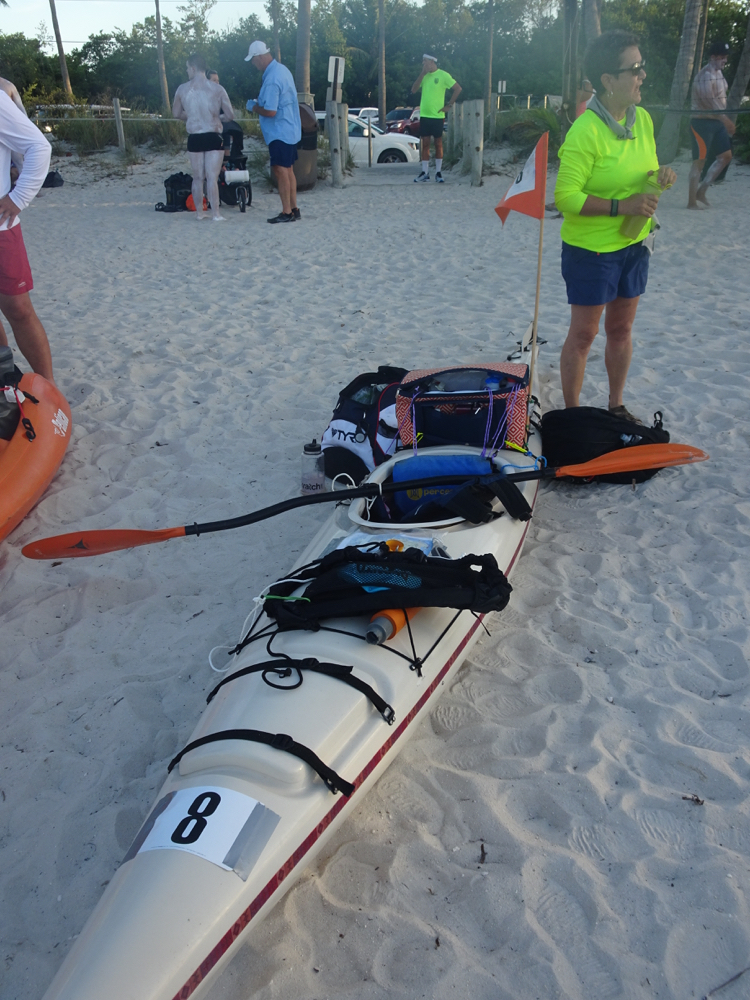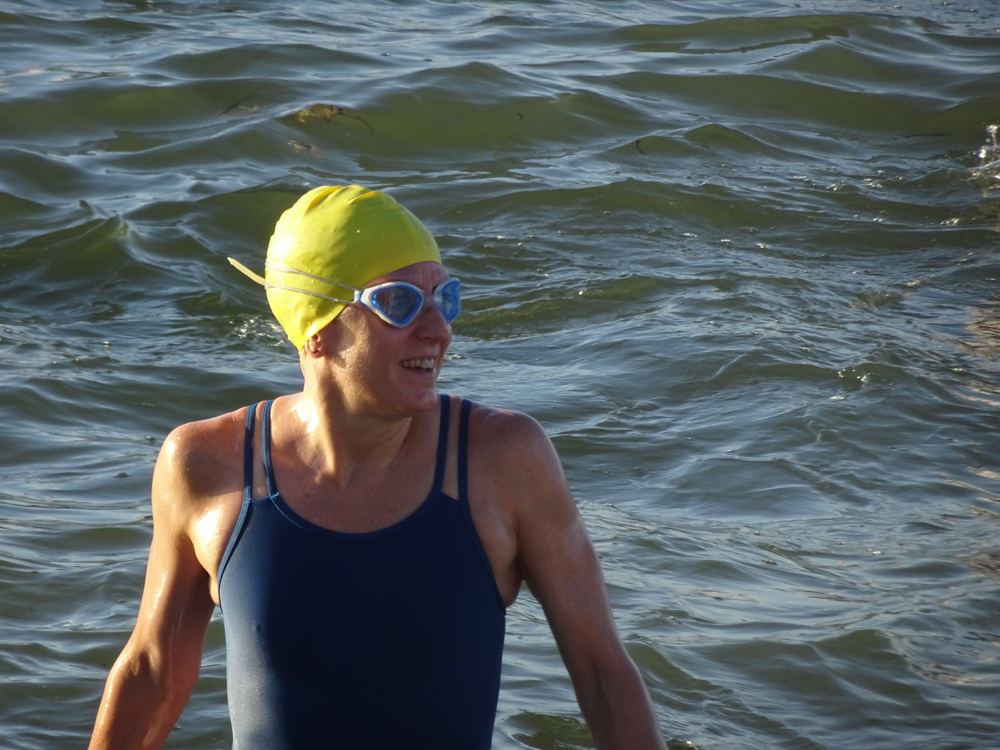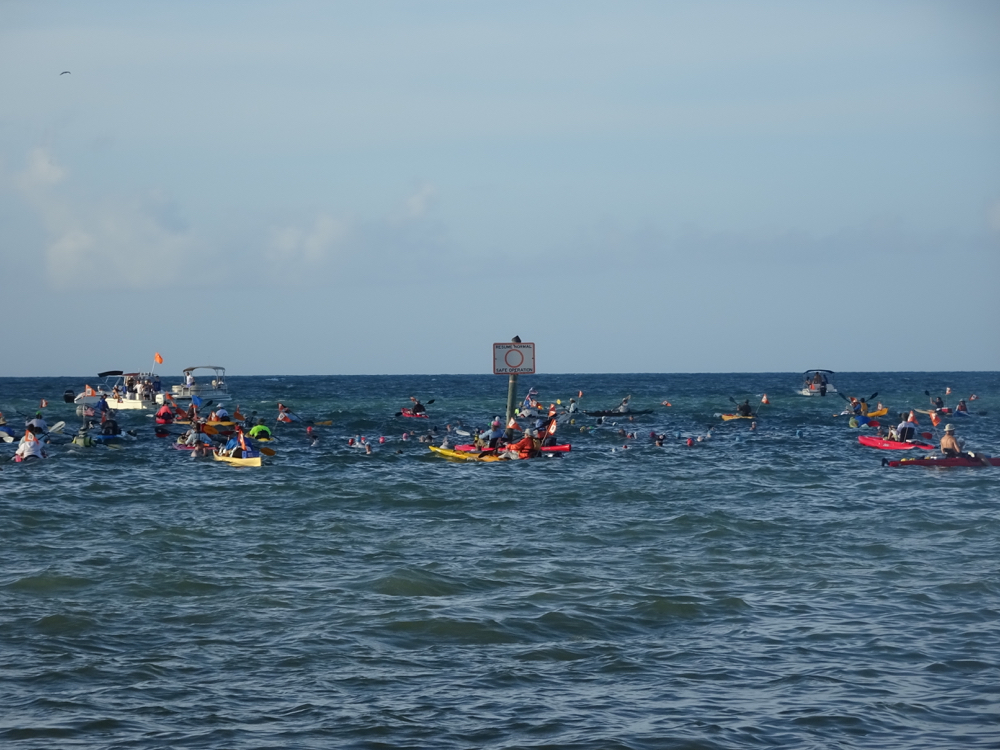 Wave 1 went off at 7:15. Wave 2 (us) went at 7:45. The kayakers were sent out first and they would hook up with us after we started swimming. Watch the video Jim took of the start.
It was one of the most chaotic starts I've ever experienced in a race - not chaotic in terms of being pummelled by other swimmers but chaotic in terms of confusion. There were swimmers and kayakers all interspersed together trying to pair up. Unfortunately, few things made it easy to find Nancy. She wasn't the only one wearing a bright yellow shirt, and I swam after two of them before realizing they weren't her. I kept stopping to do breaststroke and look around to see what was happening. I was sure we had passed mile 1 by the time I finally found her. The thing that helped the most was the silly orange and white cooler that I picked out much to Jim's dismay (he made fun of me for choosing the most ridiulous-colored one). When we finally hooked up, I checked my watch and we were already 26 minutes into the race. And I had missed my first feeding. When we got relatively clear of the mayhem, I stopped and she was already prepping to throw me a water bottle.
Then, I just settled into an easy stroke and let Nancy lead the way. The time (marked by 20-minute feeds) seemed to fly by and in an instant, I could see the satellite dish that marked mile 2, then we took the corner that marked mile 3. And somewhere between mile 4 and 5 miles, I stopped because I smelled what can only be described as a "cookout." I had to mention to Nancy "that smells good." She pointed out there was a restaurant responsible. I swear, that was downright criminal. We weren't even half-done. I had to stop a few times in the first four miles because my eyes started to sting and water like crazy. I figured it was from sunscreen - I had to stop and take my goggles off twice and pour fresh water in my eyes to make it stop.
Jim went to the far west edge of the island to watch us pass around mile 3. He got some pretty cool photos there: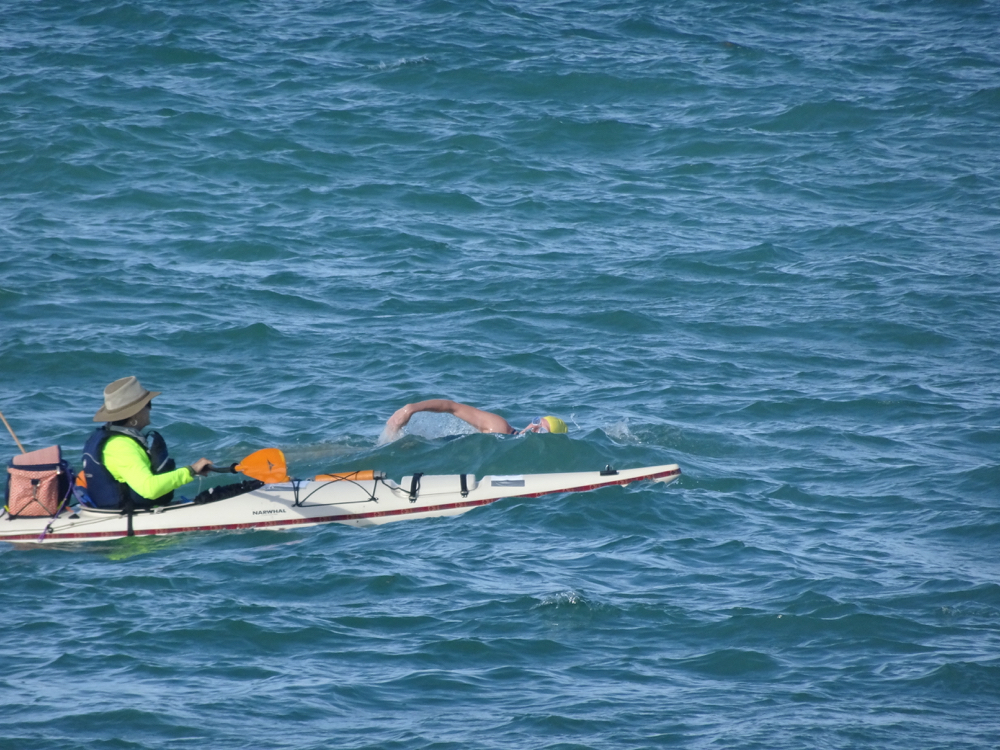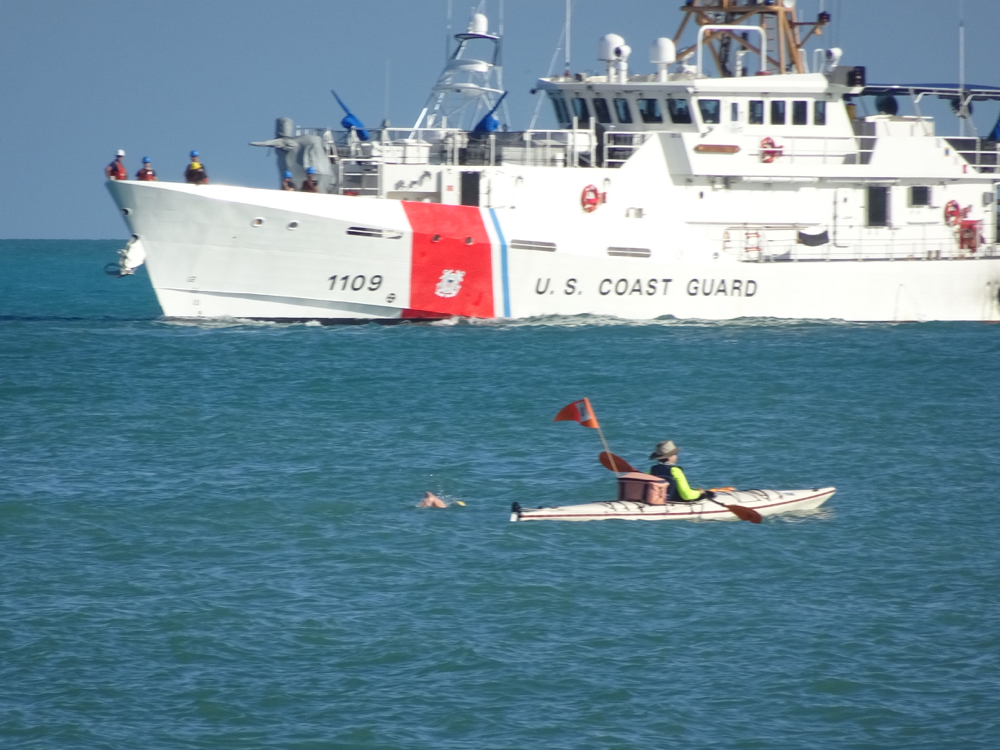 Somewhere around mile 6, when we reached the moorings, I flipped over onto my back to see the most amazing boats anchored all around me. Nancy piloted me through this area like a pro. There were ropes and buoys that I could have easily got hung up on. It was at this place I remember starting to hear Jimmy Buffett songs in my head. It made me ecstatically happy and it would continue on for the rest of the swim. These words were particularly stuck on repeat, from "A Pirate Looks at 40":
Mother, mother ocean, I have heard you call
Wanted to sail upon your waters since I was three feet tall
You've seen it all, you've seen it all
I was making my peace with the water in a very spiritual way. It was fun and truly fulfilling. When we hit mile 7, Nancy stopped to remind me that we were about to enter the "difficult" part - against the wind. She advised a feeding so we could push through and I agreed. I checked my watch and almost went into shock to find that we were on a ridiculously fast pace. I was swimming 15 seconds per 100 faster than my fastest expected pace. All I could think is that we're about to get slammed by the current and the wind. I drank a little extra and put my head down to power through. The waves got rougher, and I swallowed water a couple of times - I told myself not to fight, to relax and work with the rhythm of the water. It must have worked because I started to notice we were passing people during this stretch. Surprisingly, I didn't feel particularly bad even though I expected to hit the "wall" around 8 miles because it was the distance of my longest training swim. But I didn't. Maybe knowing I'd see Jim on the bridge at mile 9 is what kept me strong. Who knows?
Here's a shot Jim took of us coming toward the Cow Key Channel Bridge: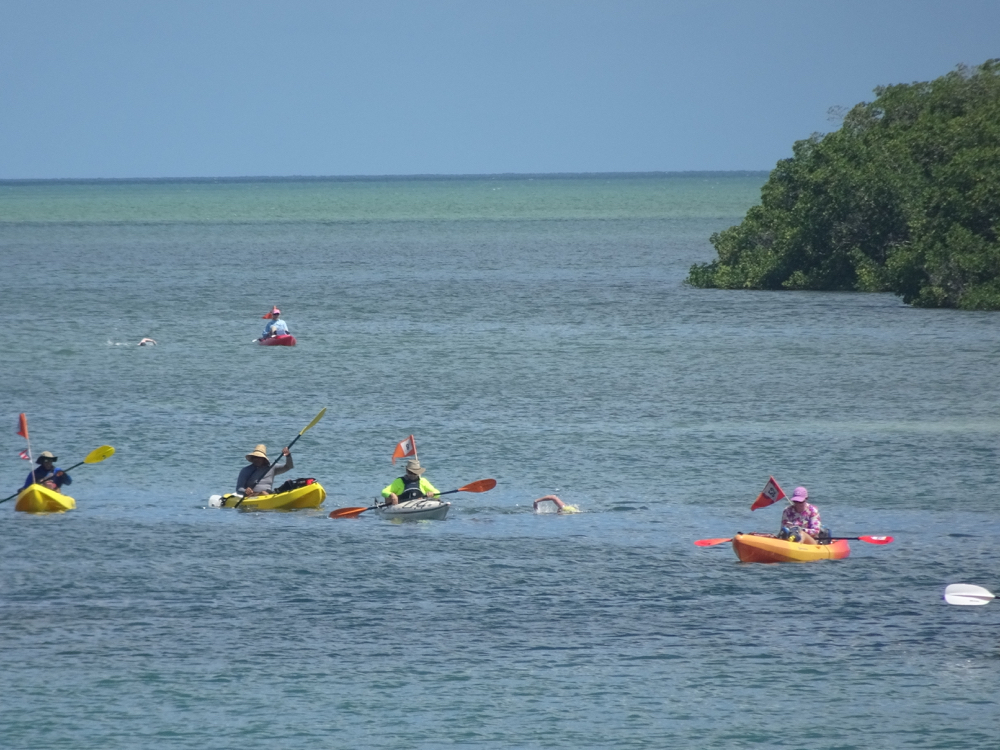 I looked up to wave at Jim when we reached the Cow Key Channel Bridge, and then we headed for the very shallow water. We had successfully conquered the windy part, and we were about to get another push. I stopped to check my pace. Shockingly, I was still 10 seconds per 100 ahead of expectations.
Of course, Jim has a photo of me checking my watch (which I only did three times in this race):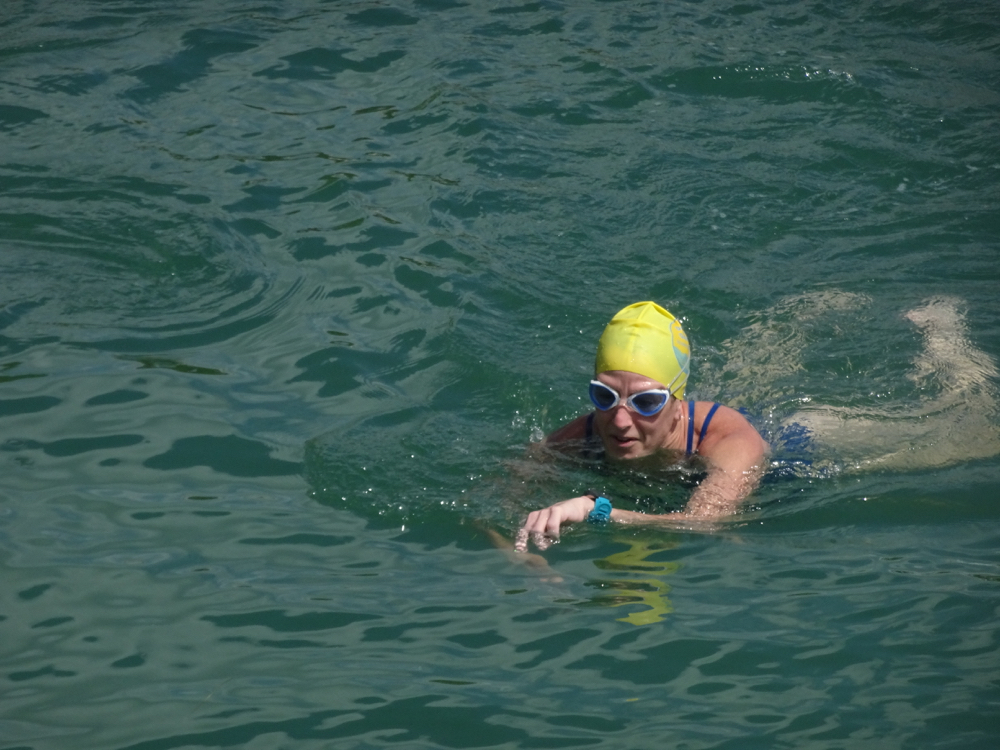 Here's video Jim took from the bridge:
OK. Here's when I thought: "Seriously. It's gotta hit me sooner or later. I'm going way too fast. I'm feeling way too good. Something isn't right."
Nancy perfectly navigated the shallows, which, at this hour, weren't all that shallow. The water was much hotter here and I was starting to get a little nauseous. I stopped with the high carbs and went for my high-electrolyte drink. But I kept swimming and I wasn't slowing down. When we rounded the far end of the island, we stopped a second and Nancy said to me: "do you know where we are?"
I said: "We have TWO MILES to go!!" She was clearly pleased with how fast we were going.
And, of course, it was here that Disaster Magnet reared its head. I was about to make a huge mistake. I was tired and slightly nauseous, and I wanted a surge of energy for the finish. I decided to do the ONE thing that has always worked for me - in Ironman races and marathons. I drank some Coke. What's wrong with a little caffeine and sugar in the last hour, right?
Ugh. I continued to swim a steady pace until we reached the final stretch - a line of wooden poles within earshot of the finish. My arms were tired, but I wasn't, by any means, falling apart. And I was shocked and bewildered to find I was on pace to finish in under five hours. We could literally see the finish line, and Nancy excitedly pointed out the final yellow buoy that I had to round before swimming in. It was right about then I started to feel a bit woozy. I've read about people vomiting during English Channel swims and always wondered "How the hell do they do that? Treading water?"
The first heave came about five poles from the finish. I stopped swimming and there it was. Vomit stops for no man. The Coke came up with a vengeance - in fact, that's pretty much all it was. I started swimming again. And again came another round of coke-flavored vomit. Nancy was perplexed, frustrated even: "The finish line IS RIGHT THERE!" Why the hell was I stopping? I was like, "ummm hold on..." It was the most ridiculous, maddening thing. I could almost reach out and touch that yellow buoy, but I just COULD NOT GET THERE. Meanwhile, once you stop swimming in an event of this length, everything locks up. My arms were no longer working the way they had five minutes ago. Finally, the vomiting was over, and I swam as hard as I could, but I couldn't hold off the guy coming up behind me. He had a much faster finish kick than I did. I consoled myself knowing he wasn't a female competitor.
Here's me finally rounding that last buoy: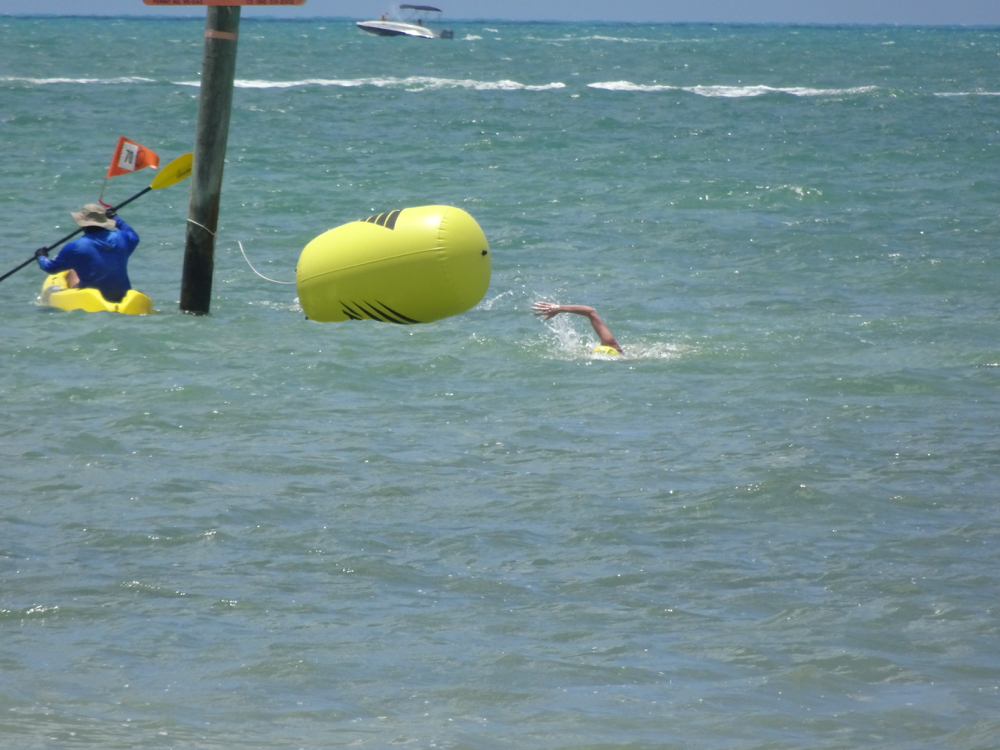 And just like that, I was up and running to a line in the beach sand.
Here's video Jim took of my finish: 
I heard Jim's voice over all the others. It reminded me of my swim coach from college yelling in my face when I was close to a NCAA championship qualifying time. I felt the FEAR. All I could think was that I MUST be extremely close to some goal time. I ran with everything I had across that line and hit the stop button on my watch. Whoa. There it was: a few seconds under 5 hours. Jim confessed later he had no idea about time, he was just cheering for me to finish. Whatever. It worked. I might have just walked it in, but because of him and the FEAR, I was the last finisher to make it under 5 hours. I still can't believe it.
We sat around at the finish for a long time while other finishers came in. It was a while before I felt like standing up or even eating something. When I finally gathered my strength, I inhaled a burger and lots of watermelon. I checked the results and was blown away by the fact that I was 17th overall, the 6th female finisher and 2nd female master (only two minutes from the 1st master). Official results are now posted online. Even more surprising was that I managed to get one of those amazing trophies, and I will cherish it forever. I chose not to kick myself after finding out how much time I wasted stopping to feed (in the heat, I had to make sure I got all my fluids each time I drank), to look around, slowing down to check out the fish swimming below me, or to lollygag and laugh with Nancy. My Garmin said I did about seven minutes of that. But I wasn't there to race, I had nothing to compare it to, and we were having fun.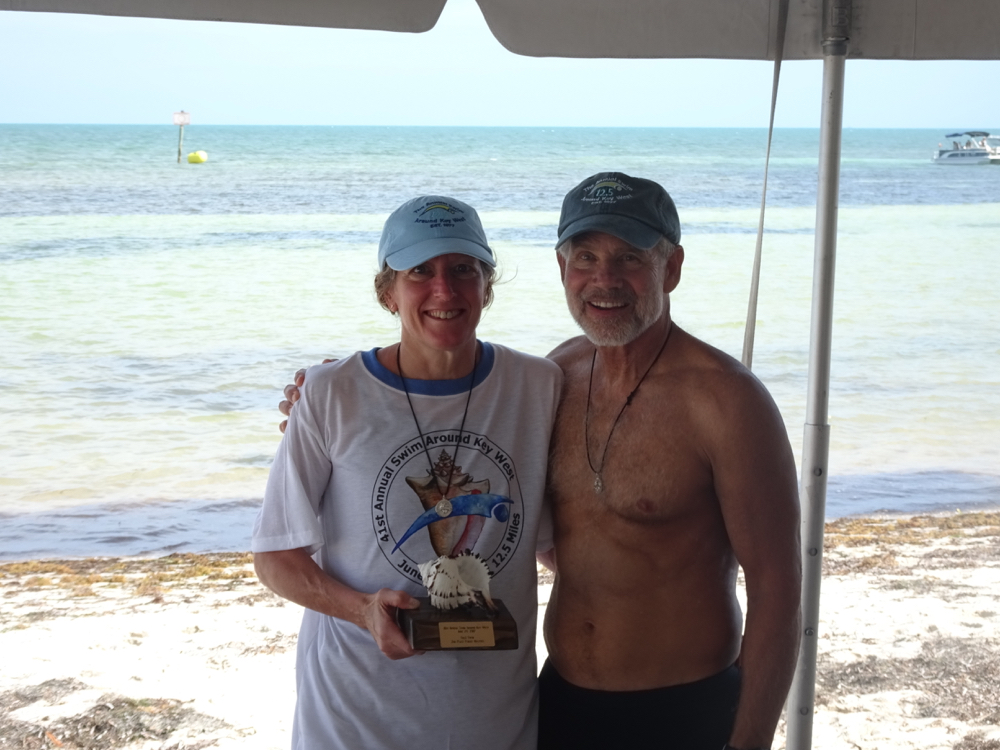 If I have something to say to wrap this up.. First of all, I couldn't have done it without Jim and Nancy. Jim has been ultra-supportive through this whole open-water swimming learning process. He made sure I didn't worry needlessly about all the logistics and equipment. And Nancy was calm, professional, navigated the quickest route around Key West, and kept me from swimming into buoys and drifting off while swimming (yes, both of those things almost happened). At one point I swam right into the side of her kayak when I breathed on my left a few times. She asked me if I had "zoned out"  and it just cracked me up - I told her I swim in circles when I breathe on my left. My swim around Key West was similar to my fastest marathon and my fastest Ironman in that I truly enjoyed every moment of it. If my face weren't in the water, I would have been laughing the entire way. Even when I started to get sore and tired, I was still happy and singing to myself. The pain barely registers when I feel good and the time certainly flies by. The only struggle came in those last few hundred yards, and then, I was still kind of in a state of euphoria because I was almost finished, and it was amusing to me that I can rarely pull anything off without at least one glitch in the process.
Later the next day we walked through the Key West Cemetery and found this amazing grave marker, which perfectly summed up my trip to Key West. The inscription reads:
Sir Peter Anderson
1947-2014
Secretary General
Conch Republic
'He Had Fun'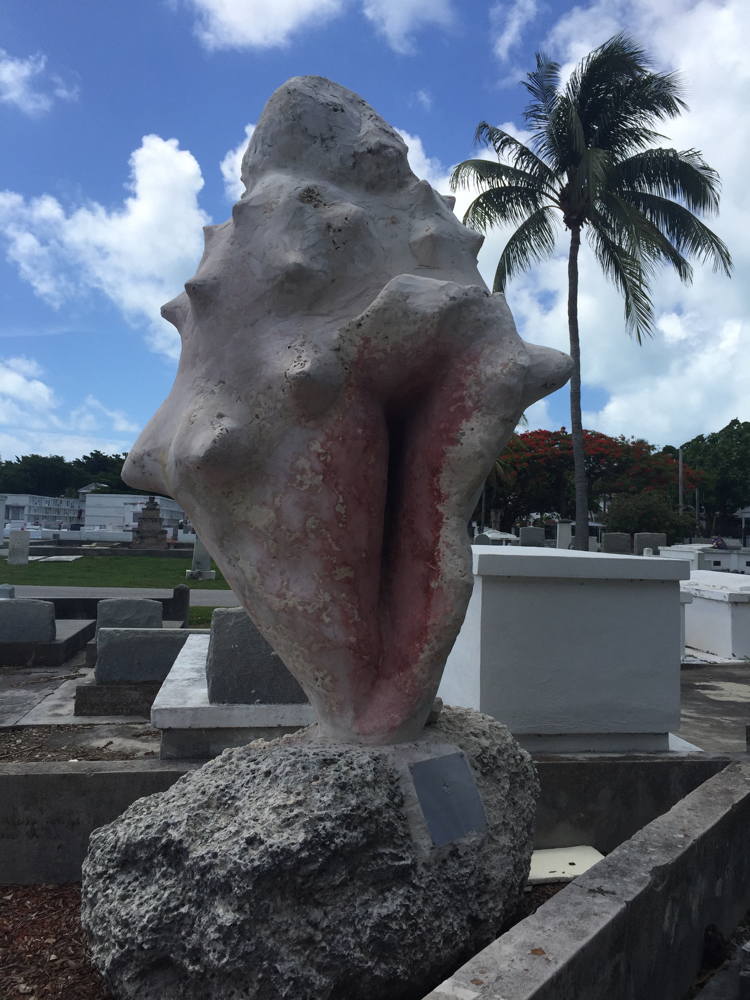 Race report from my 12.5-mile Swim Around Key West with photos and video.